I just recently finished reading Nina Garcia's book The One Hundred. Although this is a good read, and there is lots of usable information in the book, these books usually make me feel blown off by about the second or third chapter. Yes, I would love to have Manolos and Jimmy Choos, own a Burbury trench and shop for Lanvin, wear tights that cost almost one hundred dollars, and of course, be seen in Chanel. Well, I can appreciate these styles and designers, but my budget and lifestyle just aren't there. Why is it that all writers of fashion books seem to be out of touch with the way most of us live? Well, at least out of touch with the way I live. Also, if I wore high end designer clothes to work a)I doubt that anyone would know who the designer was, and b)if they did, they would think I was out of my mind.

The One Hundred is written like an alphabet book, with a variety of items under each letter of the alphabet. It covers everything from clothes, underwear, accessories, and outer wear, to champagne, passports, and Pearls. I will say, that there was a lot of useful information in the book, and it is a quick read. On the other hand, a Birkin bag and original Pucci will not be adorning my closet any time soon.

I have decided to do my own ABC list of sorts for the "real woman", in fact, for the real sewing woman. I will be using a combination of ideas I have read in a variety of books, magazines and articles. I will be reflecting on things I see in real life and what I've known to work for me. I live in California, so my my views will be a little more relaxed than the East coast view, but hey, It's just a blog... Enjoy!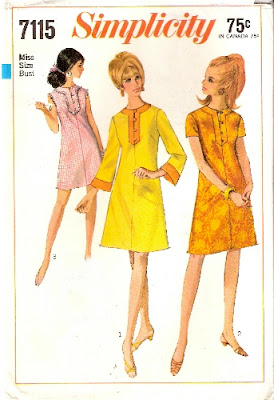 A is for A-line dress. Now this is one of the things in Garcia's book, but trying to find a pattern for a true A-line dress is not as easy as it seems. I just recently purchased a couple of vintage pattern from Out of the Ashes for a 60's A-line dresses. A-lines were very popular in the 60's and 70's. and yes, I'm old enough to remember. The beauty of the A-line is that it is (supposed to be) flattering for all figure types. If you are having a poochy tummy day, it will never be seen in an A-line. A-line dresses were also considered "mod" dressing. Bright colors, color blocking, and large prints made these dresses mod. Most had high necklines; either jewel or nehru. These dresses were either just above the knee or mini length. The A-line came into being as an offshoot for a slimmer line than the trapeze dress. Women were in love with this style after years of cinched in waists and fitted bodices.The A-line is the easy to wear go-to dress. I'm anxiously awaiting my pattern so that I can make up one or two!

So, I'm wondering... How many of you have an A line dress? And do you believe that they are flattering on all body types? Do you have any pattern suggestions to share? remember, the A line was not shaped at the waist. I'd love to hear what you have to say about A-lines.

Next - a couple of more A's.