Now that Christmas is over and things have settled down, it is time to get back on my blog. I haven't been sewing much lately because a lot has been going on - which I won't get into now. The good news is that my daughter is getting married! We are thrilled and love her fiance. The wedding is in March and we've decided that I am going to make the wedding dress. I will be logging my progress here as I go along. I also will be making the flower girl dress as well.

Believe it or not, we were able to find all the fabrics she wanted at JoAnns! I would have rather used silk, but she liked what we found and that's all that matters. The even better news is that all of the casa collection fabrics were 40% off, and I also had several 50% off coupons, so even though I still have to buy lace, zippers, and buttons, I think we will be able to do the whole dress for under $200. (actually, both dresses) So, I can't complain about that!


I think my daughter is actually a little worried about me making the dress. She is afraid she will not like it, it won't fit right, I will get too stressed out, she will get too stressed out, I won't get finished in time, etc.!

Here is what we are planning. We are doing the bodice from Simplicity 8289 and the skirt from McCalls 6893.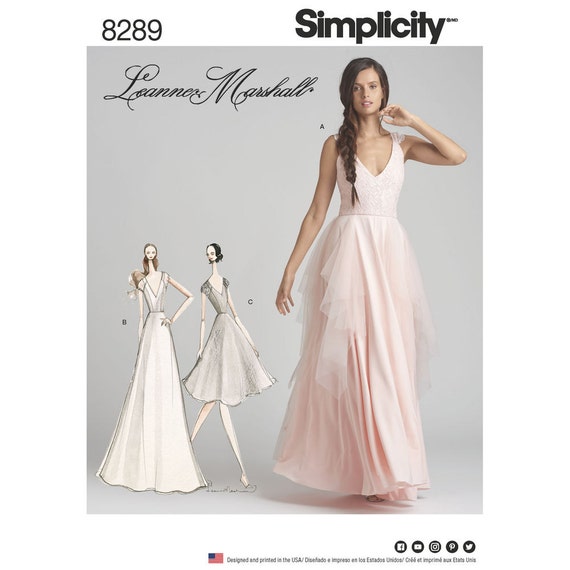 I just love the back of this dress. We are making the bodice out of matte satin with the lace over it. The lace for the upper back and upper front are lined with silk organza. The waist band will be satin and the skirt will be a drapey stretch matte satin with a chiffon overlay.
Today I got all of her measurements, so I can start cutting out the muslin tomorrow..
My granddaughters flower girl dress will basically be the same thing using Butterick 6445.
The dress in the picture is short, but hers will be long and use the same fabrics as her mother's. DD is planning a bohemian style wedding, which is perfect for her own style.